Thermo Scientific HyperSep SLE
Removing Uncertainty by Applying Science to SPE
Solid supported liquid/liquid Extraction (SLE) is a fast effective sample preparation technique that provides considerable benefits over LLE techniques for removal of phospholipids, and complements existing Thermo Scientific Protein Precipitation plate technology. To learn more and access a selection of HyperSep™ SLE Application Notes, complete the form below. Items marked with an * are required.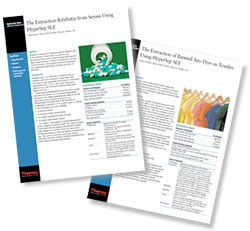 Visit www.thermoscientific.com/SLE
for more information.
Other Chromatography Resources
Enhanced Online Interactive Chromatography Columns and Consumables Catalog
Chromatography Resource Center
An extensive and fully searchable library featuring over 6000 applications and references encompassing Liquid Chromatography, Gas Chromatography and Solid Phase Extraction.