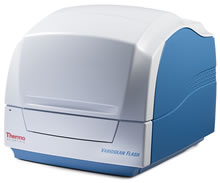 Thermo Scientific Varioskan Flash Spectral Scanning
Multimode Reader - Technical Poster Offer
To download the poster "Comparison of Monochromator and Filter Based Fluorometers in the Measurement of Narrow Stoke's Shift Labels" please complete the form below.
Items marked with an * are required.
The Varioskan Flash offers flexibility and optimized performance for a variety of different applications.
Excellent sensitivity with the flexibility of quadruple monochromators
Extremely easy measurement setup
Onboard dispensers for exact follow-up of kinetic reactions
Safety features to protect instrument
and samples
For more information on the Varioskan Flash,
visit www.thermoscientific.com/varioskan