Thermo Scientific Sorvall General Purpose Centrifuge 5-Year Warranty!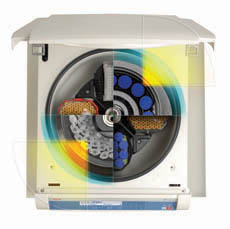 Purchase a Sorvall general purpose centrifuge through Fisher Scientific and we'll extend the standard warranty for your centrifuge to 5 years!*
Sorvall centrifuge
Rotor and accessories
AND NOW with a 5-year warranty on your Sorvall centrifuge!
Standard warranty features original spare parts and extensive field service coverage up to $3400 value!
Note: Extended warranty does not cover Preventive Maintenance service. A yearly PM is recommended. To schedule in the US, contact by email contracts.led.asheville@thermofisher.com or call 800-438-4851 and ask for Service Contracts. To schedule in Canada, contact by email fisherservice@thermofisher.com or call 1-800-234-7437, option 4.
Offer valid only in connection with the purchase of a qualifying centrifuge, exclusively designated by one of the following part numbers:

75418382, 75818382, 75063839, 75213839, 75103839, 75253839, 75218382, 75618382, 75333839, 75393839, 75067473, 75217473, 75212452, 75612452, 75060817, 75210817, 75066770, 75216770, 75336770, 75396770, 75410885, 75810885, 75418180, 75818180, 75101923, 75251923, 75337271, 75397271, 75107271, 75257271, 75612963, 75210062, 75210061, 75210063, 75107473, 75257473, 75216362, 75236362, 75396362, 75386362, 75004510, 75004525, 75004506, 75004521, 75004533, 75004539, 75004241, 75004380, 75004381, 75004221, 75004261.


Promotion extends standard limited warranty applicable to Sorvall Legend and ST general purpose centrifuge, and expressly excludes consumables.


Except as specified in the standard warranty applicable to products, Thermo Fisher Scientific makes no additional warranties, express or implied. For warranty details see Thermo Fisher's standard terms and conditions of sale. Please note that the value of the specific offer the customer may receive from the manufacturer under this program is a "discount or other reduction in price" to the customer under section 1128B(b)(3)(A) of the Social Security Act [42 U.S.C. 1320a- 7b (b)(3)(a)]. Accordingly, the customer shall disclose this and any other discounts or other reduction in price received under this program under any state or federal program which provides cost or charge-based reimbursements to the customer for the products or services purchased under this program.


Offer valid in the United States and Canada for orders on select product placed through Fisher Scientific through December 31, 2013.


Not valid with any other offer, contract or agreement. Void where prohibited by law.


For more information, please visit us at www.thermoscientific.com/spinit.